Gum Disease Treatment in Bradenton and Sarasota
Knowledgeable Specialist for Gentle and Effective Gum Disease Treatment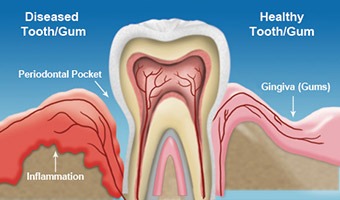 Gum disease is a progressive bacterial infection of the gums that can do serious damage to your gums and bone tissues and, if untreated, may eventually result in the loss of one or more teeth.
Gum disease has also been linked to several serious health conditions such as diabetes, cardiovascular disease, osteoporosis and certain types of cancer. When gum disease is present, it is therefore important to get it treated effectively and as soon as possible.
Expert Gum Disease Specialist
Dr. Rubino is a Periodontist, a highly skilled and experienced specialist in the prevention, diagnosis and effective treatment of gum disease and in the placing of dental implants. As a Periodontal Specialist, Dr. Rubino is not only specially trained to treat gum disease, but also to treat the damage to gum and bone tissue that results from gum disease—he is able to correct this damage through skilled application of highly advanced and specialized gum and bone grafting techniques.
Dr. Rubino has been practicing periodontics since 1988 and has continually kept up-to-date with the latest advances in his field. He is a licensed Florida provider of continuing education for other dental professionals, and he has been selected by his peers as a Top Dentist in the field of Periodontics and Implant Dentistry in Sarasota Magazine every year since 2011.
Time-tested and proven treatment methods to guarantee best results
Dr. Rubino continually keeps himself up-to-date with all the latest innovations in gum disease treatment, including the use of dental lasers. Although dental lasers have shown promise and results, they have yet to develop a long track record or a substantial body of peer-reviewed research demonstrating that they work just as well as proven methods that have stood the test of time.
Dr. Rubino uses only gum disease treatment methods which have been proven over time to yield predictable and stable outcomes. In this way, he guarantees the best in possible results for his patients.
Laser Periodontal Therapy Click here to download and read an article written by Dr. Rubino about Laser Periodontal Therapy
$79 New Patient Special Offer:
Exam, X-rays & Consultation
If you feel you might have gum disease, come and see Dr. Rubino for a comprehensive oral examination. He will be able to tell you the extent of any gum disease and how it can be effectively eliminated. Your exam and consultation will include: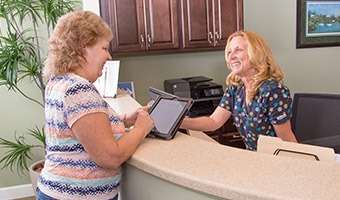 Panoramic Digital X-rays (as needed)
CT scan (as needed)
Periodontal probing and charting
Comprehensive oral exam
Oral cancer screening
Consultation with the doctor
Discuss your treatment options (during free 2nd appointment)
Get all your questions answered
Usual value: $529
Important Notice:
The patient and any other person responsible for payment has a right to refuse to pay, cancel payment, or be reimbursed for any other service, examination, or treatment that is performed as a result of and within 72 hours of responding to the advertisement for the free, discounted fee, or reduced fee service, examination, or treatment.
Call to request an appointment: Sarasota/Lakewood Ranch 941-404-2218 • Bradenton 941-757-8676 • Sun City Center 813-630-4157, or click here to request an appointment online.
Experienced, Skilled Gum Disease Treatment
Dr. Rubino uses advanced technology and a large range of minimally invasive procedures to ensure your gum disease treatment is thorough, comfortable and effective.
Comprehensive diagnostics
Dr. Rubino will start by conducting a comprehensive oral examination of your mouth to assess the level of any gum disease and determine how it can best be treated. He will use a thin probe/ruler to gently measure the depth of the open pockets between your teeth and gums—the deeper the pockets, the greater the level of gum disease and bone loss.
Dr. Rubino will also take full digital X-rays and, when needed, a 3D CT scan using our advanced cone beam CT scanner, to get an accurate view of the bone levels surrounding your teeth. He will check for any loose teeth, note any areas of gum recession and will review your medical and dental history with you.
Treatment plan
Dr. Rubino will formulate a detailed treatment plan and will educate you thoroughly on what is needed to restore your oral health. He will make sure all your questions are answered so you are well-informed and comfortable.
It is important to note that your spouse or significant other is welcome to attend both your exam and treatment discussion appointment. Dr. Rubino knows and appreciates the fact that decisions regarding your treatment are often not made alone.
Experienced deep cleaning
The first line of attack in treating periodontitis is thorough deep cleaning (called Scaling and Root Planing) of the pockets between your teeth and gums. We will first remove the accumulated plaque and calculus (tartar) deposits on your teeth and below your gumline (scaling). We then smooth out your tooth root surfaces (known as root planing) to make it harder for further bacteria to accumulate.
Our experienced hygienists use ultrasonic scalers which emit high-frequency vibrations that gently and thoroughly remove the accumulated plaque and calculus (tartar) from your teeth. The vibrations also shatter the cell walls of the bacteria and kill them, making the treatment even more effective. Ultrasonic scalers can be adjusted for patient comfort and are gentler on your teeth than traditional hand instruments.
Bacteria-specific antibiotic therapy
When Dr. Rubino sees evidence of severe infection, he will sometimes take a sample and send it to a lab to determine the exact strains of bacteria that are present. He then prescribes bacteria-specific antibiotics to further assist in combating the infection.
Follow-up evaluation
Dr. Rubino will re-examine your teeth and gums about three weeks after your deep cleaning.  He will determine if healing has progressed adequately or if further actions are needed to achieve the desired result. He will thoroughly explain everything that is happening and what he will next do so you are completely informed, and he will take the time to answer any of your questions.
Home oral care education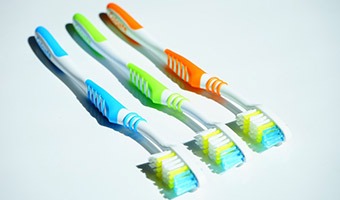 Your home oral care is an essential component in any effective gum disease treatment, as the bacterial accumulation has to be continually removed by proper brushing and flossing to keep any infection from recurring.
Our hygienists will thoroughly educate you in effective home oral care as a part of your gum disease treatment plan. They use a large number of oral hygiene instruments to help you become proficient, including training with models and educational videos, and tailored instruction in brushing and flossing procedures. They will also supply you with all the toothbrushes, floss and oral hygiene aids that you might need to keep your oral health in optimum condition between visits.
Learn more about our Periodontal Maintenance here.
Minimally invasive periodontal surgery
In many cases scaling, root planing, and antibiotic therapy are adequate to resolve problems associated with gum disease. However, there can be times when the infection has reached so deep into the tissues that it cannot be adequately accessed without surgical procedures.
In those case, Dr. Rubino will perform minimally invasive periodontal (gum) surgery to eliminate the infection and restore your mouth to full health. Dr. Rubino carefully preserves your gum tissue when performing periodontal surgery and uses microsutures that dissolve on their own and do not need to be removed. This reduces discomfort, speeds healing time and makes the procedure much gentler. It also eliminates the need to come back for a second appointment.
Surgery follow-up
After your periodontal surgery, we will monitor your healing progress during a series of follow-up visits. We will perform an additional cleaning to pick up any new bacterial deposits that might have accumulated and give further home oral care instruction if needed.
Our hygienists use a special jet spray cleaning device known as a Prophy-Jet to thoroughly clean your teeth and remove any new bacterial deposits. The Prophy-Jet shoots a high-pressure stream of sodium bicarbonate (baking soda) that removes deposits from places that cannot be effectively cleaned with floss and a toothbrush.
At the end of your follow-up appointments, Dr. Rubino will set up a schedule for your periodontal maintenance to prevent any recurrence of problems with gum disease.
Bone grafting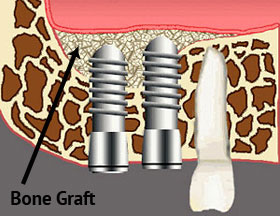 When gum disease reaches an advanced stage, the supporting bone around teeth is progressively dissolved away. When needed, Dr. Rubino will replace lost bone and rebuild support for your teeth using minimally invasive bone grafting procedures. He is a skilled expert in bone grafting treatment and will ensure that your treatment is performed accurately, efficiently and in a comfortable manner.
Learn more about Dr. Rubino's bone grafting procedures here.
Gum recession treatment
Periodontitis can sometimes cause the gums to recede and expose the roots of teeth. Dr. Rubino can restore root coverage and build back a natural gumline around your teeth with gentle, minimally invasive gum recession treatment.
Learn more about Dr. Rubino's Gum Recession Treatment here.
Tooth extractions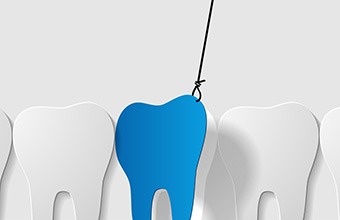 Occasionally, gum disease reaches a point where a tooth has structurally deteriorated and the bone loss has been so severe that the tooth cannot be saved. If this is the case, Dr. Rubino will gently extract the tooth using special techniques that cause little to no discomfort and preserve the surrounding tissues as much as possible.
Learn more about Dr. Rubino's tooth extractions here.
Come and See Us
Take advantage of our $79 New Patient Special Offer for a comprehensive oral exam, any needed X-rays and a full consultation with Dr. Rubino. He will give you a detailed explanation of his findings, discuss your treatment options and answer any questions you may have.
Call to request an appointment: Sarasota/Lakewood Ranch 941-404-2218 • Bradenton 941-757-8676 • Sun City Center 813-630-4157, or click here to request an appointment online.