Crown Lengthening in Bradenton and Sarasota
Expert Functional Crown Lengthening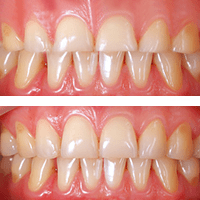 The crown is the top part of your tooth that is visible above your gumline. There are times when some of the gum tissue around a crown needs to be removed to allow other corrective treatments to take place.
For example, a cavity under the gumline may need to be exposed so it can be filled. An orthodontist may need to have some gum tissue removed around teeth that have not yet erupted, so that orthodontic brackets can be placed on them. This is known as "functional crown lengthening."

As a periodontist, Dr. Rubino is highly skilled at functional crown lengthening. He can also use crown lengthening procedures to remove excess gum tissue that makes it difficult for you to clean your teeth.
Exposing the Crown To Assist Restorative Treatments
When a tooth needs a restorative dental crown due to decay, excessive wear or fracture, enough of the tooth needs to be exposed so the restoration can be placed without irritating the gumline. Dr. Rubino can gently adjust the gumline and resculpt the tooth surfaces as needed so the restoration will fit securely, without complications, and will look better.
There are also times when a cavity forms partially or completely below the gumline. Dr. Rubino will gently adjust the gum tissue to expose the cavity so it can be effectively treated.
Exposing The Crown for Orthodontic Treatment
Certain teeth, such as canines, occasionally fail to erupt through the gum line and move into their proper position on the dental arch. An orthodontist will need to have the crowns of such teeth exposed in order to correct their position through orthodontic treatment.
Dr. Rubino assists the work of the orthodontist by exposing the crown of an un-erupted tooth and attaching an orthodontic bracket to it, making orthodontic treatment possible. Dr. Rubino gently performs this procedure for both adults and children.
Fixing a Gummy Smile
When excess gum tissue covers the crowns of your teeth, your teeth look short and your smile looks "gummy". Gummy smiles are more than a cosmetic issue, as the gum tissue overgrowth can make it difficult or impossible for you to thoroughly clean your teeth.
Dr. Rubino can gently remove the excess gum and bone tissue covering your teeth to create a natural-looking and healthy smile.
Learn more about Dr. Rubino's Cosmetic Gum Treatments here.
Call to request an appointment: Sarasota/Lakewood Ranch 941-404-2218 • Bradenton 941-757-8676 • Sun City Center 813-630-4157, or click here to request an appointment online.