Dental Implant Services in Bradenton and Sarasota
Expert, Minimally Invasive Dental Implant Placement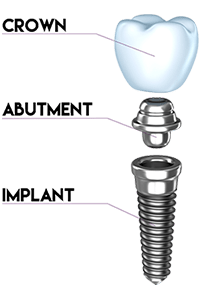 A dental implant is a titanium post that is inserted into the jaw to act as a replacement root for a missing tooth. Dental implants are the most durable, most long-lasting and most lifelike tooth replacement option, and indeed are the modern gold standard of tooth replacement. With proper care, dental implants can last a lifetime.
Dr. Rubino is an experienced and highly skilled specialist in dental implant placement. He uses advanced technology and minimally invasive procedures to make your dental implant treatment accurate, comfortable and efficient.
Highly Skilled Implant Specialist
Dr. Rubino is an expert periodontist, a dental specialist in gum disease treatment and the placement of implants. He first started placing dental implants in 1990 and has treated thousands of cases. To be able to consistently provide the best care possible, he has dedicatedly kept up with all the latest technical developments in dental implant procedures through extensive continuing education.
Dr. Rubino has received numerous awards in recognition of his expertise. He has been featured as a "Top Dentist" in Sarasota Magazine annually from 2011 to 2016 for his work in the field of periodontics and implant dentistry. In 2014, he was selected by his peers as one of "America's Top Dentists."
Dr. Rubino regularly provides training to other dentists on the subject of implant dentistry. He is an Assistant Professor at the University of Kentucky College of Dentistry Division of Periodontics. Since 1990, he has served as a Florida Dental Continuing Education provider, training dentists in various aspects of dental implant treatment.
$79 New Patient Special Offer:
If you are in need of tooth replacement, come see Dr. Rubino for a comprehensive exam and consultation. You can find out if dental implants are right for you and discuss your available treatment options with the doctor. Your comprehensive exam will include: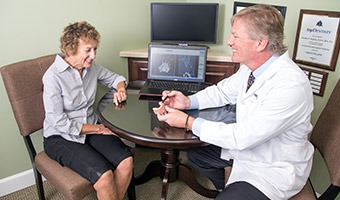 Panoramic Digital X-rays (as needed)
CT scan (as needed)
Periodontal probing and charting
Comprehensive oral exam
Oral cancer screening
Consultation with the doctor
Discuss your treatment options (during free 2nd appointment)
Get all your questions answered
Usual value: $529
Important Notice:
The patient and any other person responsible for payment has a right to refuse to pay, cancel payment, or be reimbursed for any other service, examination, or treatment that is performed as a result of and within 72 hours of responding to the advertisement for the free, discounted fee, or reduced fee service, examination, or treatment.
Call to request an appointment: Sarasota/Lakewood Ranch 941-404-2218 • Bradenton 941-757-8676 • Sun City Center 813-630-4157, or click here to request an appointment online.
Affordable payment options so you can get the treatment you need
We work to make it as easy as possible to receive the treatment you need. Our office provides numerous payment options and we participate with CareCredit® Healthcare Financing. We can work with all insurance plans and will help you receive the best possible reimbursement for your services.
Our Dental Implant Services
Dr. Rubino provides the following dental implant options for replacing missing teeth:
Implants to replace missing individual teeth
Multiple implants to support a dental bridge which replaces several teeth in a row
Multiple implants to support a removable partial or full-arch denture
Implant-supported, full-arch set of fixed-in new teeth with the All-on-4® New Teeth in One Day procedure
Implant-supported, full-arch bridges or a series of bridges to replace an entire arch of missing teeth
Our Dental Implant Procedure
Dental implant placement is a very precise procedure that requires detailed diagnostics and meticulous planning and execution. Dr. Rubino uses the latest in technical advances to guarantee a comfortable experience and a stable, long-lasting result.
X-rays and 3D imaging for precise diagnostics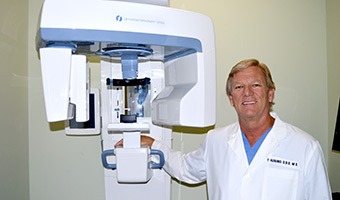 Dr. Rubino starts with comprehensive diagnostics, which includes obtaining a full set of digital X-rays and a 3D CT scan. Our CT scanner takes a series of X-rays in a circle around your head and processes these into 3D 360° views of your teeth, supporting jawbone and related anatomy.
Dr. Rubino uses these images to perform precise, detailed treatment planning.
Meticulous computer-guided planning
Dr. Rubino will load your 3D images into a special implant planning software and precisely map out the exact position, angle and depth at which each of your implants will be placed. He will also plan out any bone grafting that may be needed to provide the support necessary for your implants to be strong and stable.
Surgical guides to guarantee accuracy of placement
When needed for placing implants in challenging locations, Dr. Rubino uses these same 3D images to create a state-of-the-art surgical guide. A surgical guide is a template that fits over your dental arch and marks exactly where and at what angle your implants should be inserted. The guide assists Dr. Rubino in accurate, efficient and minimally invasive placement.
Gentle, comfortable tooth extractions
If you have a tooth that needs to be extracted before placing an implant, Dr. Rubino first uses a special instrument to gently release the tooth from the connective tissue that holds it in the socket. He then uses a precision technique to remove the tooth in a manner that is comfortable and causes little to no damage to the surrounding gum and bone tissue. When a tooth is extracted this way, the implant site takes less preparation, swelling is minimized and healing time is much faster.
Expert bone grafting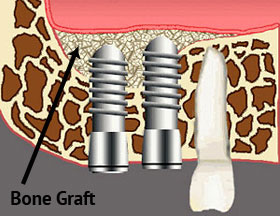 Where there is inadequate jawbone present to support an implant, Dr. Rubino will place graft material into the implant site to stimulate the generation of additional bone. He uses high-tech procedures and advanced materials for minimally invasive and effective bone regeneration.
Learn more about Dr. Rubino's bone grafting procedures here.
Top-quality, natural-looking new teeth
Dr. Rubino partners with excellent local restorative dentists to craft your new, implant-supported replacement teeth. Your new teeth will be carefully designed and fabricated to align well with your bite, and they will look very natural and aesthetic.
Keeping You Comfortable
Dr. Rubino and his staff will do everything possible to ensure your treatment is as comfortable as possible. Our injections are administered slowly and gently so there is minimal sensation. Dr. Rubino uses gentle techniques which minimize discomfort and reduce healing time.
For added comfort, we provide pillows and blankets in the dental chair. We also have wireless headphones so you can listen to music during your procedure. If you need extra help with anxiety, Dr. Rubino has several sedation options available.
Mini Dental Implants
Mini dental implants are smaller in size than regular implants and can be used as an alternative in certain circumstances. They can be beneficial for patients with thin bone as they often don't require the bone grafting that is needed to support regular-size implants. Dr. Rubino can examine you and let you know if you are a candidate for mini implants.
Come See Us for a Personal Consultation
If you have missing teeth and want to know if dental implants would be right for you, take advantage of our $79 New Patient Special Offer and get a complete oral examination and consultation with Dr. Rubino. You will find out if you are a candidate for dental implant, learn about your treatment options and get all your questions answered.
Call to request an appointment: Sarasota/Lakewood Ranch 941-404-2218 • Bradenton 941-757-8676 • Sun City Center 813-630-4157, or click here to request an appointment online.