Rubino Periodontics and Implant Dentistry in Media
Rubino Periodontics and Implant Dentistry launches Smile Makeover program to help out deserving members of the community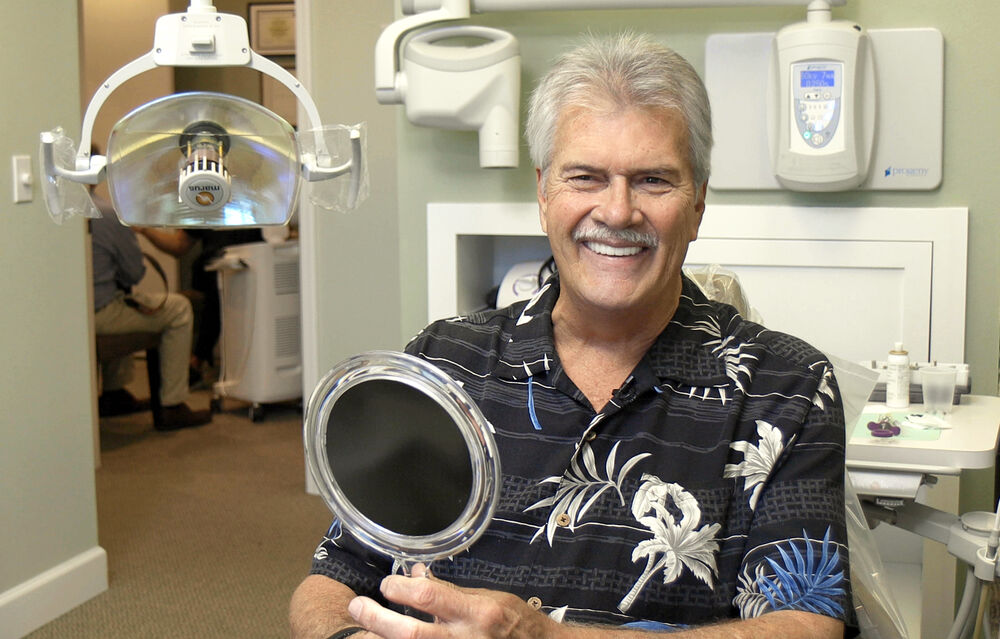 Smile Makeover Produces Stunning Results for Local Disabled Vet
We completed our first-ever, Smile Makeover as part of our new charitable giving program. Our patient, Tim, was emotional after the life-changing procedure. We were pleased that our local media outlet, Bradenton Herald, was onsite for the "smile" reveal. You can read their feature coverage here.
---
Manatee and Sarasota County periodontal group to provide $50K dental procedure for free to area veteran
Sarasota, Florida (November 9, 2020) – A local periodontal office is giving a valuable gift that many people take for granted: the gift of a smile.
As part of its new Smile Makeover program, the practice of Drs. Ryan, Tyler and Thomas Rubino, is providing a Bradenton veteran with a full set of implant supported bridges at no charge. Dr. Ryan Rubino will perform the procedure. He will place dental implants which will eventually be connected to bridges on both the top and bottom of the mouth that will restore the patient's smile and bite.
Technology in this field has seen rapid advances in recent years. A procedure that once took six to nine months to complete is now compressed into a few days at the Rubino practice.
"We can offer this procedure now in less than a week so that patients don't have to go through months of healing, multiple appointments, multiple months of fabricating the final teeth," said Dr. Ryan Rubino, who received his Periodontal Specialty training at the University of Kentucky College of Dentistry. "Only a handful of offices are doing this in such a short time frame."
The practice decided on Bradenton resident Tim Munford, 65, as the recipient of this complimentary dental implant/periodontal work. The 65-year-old military veteran was a patient at the practice and needed all his natural teeth removed and restored with upper and lower implant supported bridges. This kind of dental procedure can run from $50,000 to $70,000.
"He came here in January, and although we tried to help, he was unable to secure the financing for the procedure," Rubino said. "His teeth were causing him pain, so he eventually had them removed and got dentures from a clinic. But they just didn't work out for him and he has been unhappy with them since."
Rubino said they considered Munford a good candidate for the practice's new community giving efforts. "He's a very nice man and we're really happy to provide this for him," he said. "It's really an effort by the entire office, too. Everyone on the team is involved in this."
Munford will be getting the initial surgery for the dental implants on Dec. 7. The final teeth will be attached to the implants on Dec. 11.
"I'm looking forward to a future of good oral health," said Munford, a Jacksonville native who served overseas in the U.S. Army from 1974 to 1977.
A retiree from the electronics industry and furniture store management, Munford said he was "flabbergasted" when he learned the Rubino's chose him to receive the dental implants. "I'm still wondering if this is really happening," he said. "This is quite a gift from them. I can't wait, I'm ecstatic about the whole thing."
One of the things he's particularly excited about is being able to enjoy food that his current dental health won't allow. "I can't wait to have a nice steak or even a nice piece of fried chicken; or some corn on the cob," said Munford, adding that he likes grilling food outdoors. "You'd be surprised at what you're not able to enjoy when you have problems with your teeth."
Another benefit he eagerly anticipates is the cosmetic improvement that comes with new teeth. "It will be nice to have a good smile so I can smile back at people without being self-conscious," Munford said. "I can be spontaneous again with my smile."
Three area offices comprise the Rubino practice, with a main office at 8614 SR 70 East, #103, in Lakewood Ranch.
About the offices of: Rubino Periodontics and Implant Dentistry
Dr. Ryan, Tyler, and Thomas Rubino are Periodontists, a Dental Specialist who treats conditions involving the gums and bone surrounding patients' teeth. They have been providing comprehensive periodontal services to the residents of the Bradenton/Sarasota area since 1988 with over 45 years of combined experience. This includes expert gum disease treatment, gum recession treatment, regeneration of lost bone and full dental implant services to replace missing teeth.
The offices use the latest technology to make treatments gentle, minimally invasive and comfort.
The three Rubino offices are at:
8614 SR 70 East, #103, in Lakewood Ranch (941-755-0029)
1906-G 59th St. in West Bradenton (941-792-0029)
703-A Del Webb Blvd. in W. Sun City Center (813-633-1241)