Tooth Extractions in Bradenton and Sarasota
Expert and gentle tooth extractions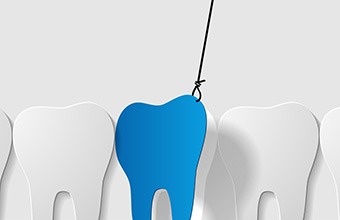 Dr. Rubino is an expert at saving even severely compromised teeth, but there are certain circumstances where a tooth will need to be extracted as a part of his treatment. Tooth extractions are done when a tooth is too deteriorated to save, or when it needs to be removed in preparation for dental implants, such as when replacing a whole arch of teeth with an implant-supported bridge or an implant-supported denture.
Non-traumatic and minimally invasive tooth removal
A traditional tooth extraction involves moving the tooth back and forth and rotating it in the socket to dislodge it from the supporting ligament and bone before it is pulled. Extractions performed in this manner damage the surrounding gum and bone tissue, accelerate bone loss around the tooth and cause swelling. Healing after such an extraction can be slow.
Dr. Rubino uses a piezoelectric surgery device which generates controlled microvibrations that non-traumatically release the connection between the tooth and the supporting ligaments and bone tissue. The tooth is then gently removed with little to no damage to the surrounding tissues. There is minimal to no discomfort and healing time is relatively quick. For a large tooth that has multiple roots, Dr. Rubino will perform the same procedure and remove it in sections so as to minimize trauma.
Gentle injections for a comfortable procedure
We apply a topical anesthetic to the point to be numbed and then slowly administer your anesthetic so there is little to no discomfort. We make sure you have no sensation before we start the procedure, and will give more anesthetic as needed to ensure you are completely comfortable.
Amenities to help you relax
We have wireless headphones that connect to Pandora, iHeart Radio, iTunes Radio or your own device if you would like to listen to music during your procedure. We also have pillows and blankets for added comfort in the chair.
Preserving the ridge for a future dental implant
After a tooth is extracted, Dr. Rubino will fill the empty socket with bone graft material to regenerate bone in the space left by the missing tooth. This procedure, known as a socket graft, preserves the height and thickness of the jaw ridge where the tooth is missing and simultaneously prepares the site for a future dental implant.
In many cases, a dental implant can be placed at the same time that a socket graft is performed. The regenerated bone will then fuse with the implant surfaces and the implant will be securely anchored.
Call to request an appointment: Sarasota/Lakewood Ranch 941-404-2218 • Bradenton 941-757-8676 • Sun City Center 813-630-4157, or click here to request an appointment online.