Meet the Doctors
Thomas G. Rubino D.D.S., M.S.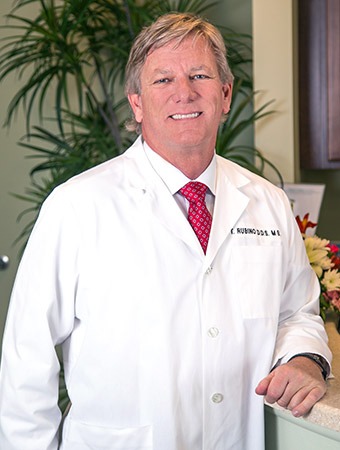 Dr. Thomas Rubino has been practicing periodontics since 1988. He has always been driven by the philosophy of providing the highest-quality results using the latest advancements in technology in a friendly and caring environment. He has stayed on top of all the latest developments in treatment through extensive continuing education, implementing breakthrough procedures as they have been tested and proven.
Dr. Rubino is highly accomplished and experienced in all aspects of periodontics, including gum disease and gum recession treatment, bone regeneration, cosmetic gum treatments and full dental implant services. He is also one of the few practitioners in the U.S. who is certified to deliver the Chao Pinhole® Surgical Technique for treating gum recession.
In addition to private practice, Dr. Rubino serves as an instructor for other practitioners and has been a continuing education provider in Florida for many years. He has received numerous awards for his skill and expertise and has achieved both local and national recognition for his work. Dr. Rubino is an Assistant Professor at the University of Kentucky College of Dentistry, where he is an attending periodontist with the periodontal residents during their time in clinic treating patients.
Dr. Rubino loves being a periodontist for the change he can make in people's lives and the relationships he builds with them as a result. "Seeing my patients' quality of life improve so dramatically after treatment is what puts the joy in my job," he says. "I also get to know my patients personally and build a bond based on trust and help. My patients are an incredible group of people and I am grateful to be their doctor."
Friendly, caring and attentive manner
Dr. Rubino is known for his friendly, caring manner and his attention to detail in every aspect of his work. Patients have commented that he inspires confidence when he explains what will happen in their treatment, and described how he puts them at ease when he answers all their questions.
Why he became a periodontist
Dr. Rubino is a third generation dentist and the first periodontist in his family. His grandfather and uncle were both dentists, and he was exposed to their work at a young age.
After seeing the relationships they formed with their patients and what they did to change people's lives, he decided to become a dentist himself. Once in practice as a general dentist, he pursued periodontics as an additional specialty so he could provide an even more comprehensive impact on his patients' health and well-being.
Education and Advanced Training
Dr. Rubino received his Bachelor of Science Degree in Biology from Wake Forest University in Winston-Salem, North Carolina in 1979. He proceeded from there to the Medical College of Virginia, where he graduated with a Doctor of Dental Sciences degree in 1983.
After three years in private practice as a general dentist, Dr. Rubino went on to complete two years of periodontal specialist training and residency at the University of Kentucky College of Dentistry, earning his Master of Science degree and Specialty Certification in Periodontics in 1988.
Dr. Rubino has completed numerous continuing education courses in advanced procedures since obtaining his periodontal certification, and has incorporated these advancements into his practice to be able to provide the highest quality service possible. He maintains an extensive schedule of continuing education to stay on the leading edge of developments.
Educator of other practitioners
Training other practitioners started while Dr. Rubino was in periodontal training himself. During his time as a resident at the University of Kentucky College of Dentistry, he worked in the undergraduate dental clinics supervising dental students.
He has continued instructing his colleagues as a continuing education provider in Florida since 1990.
Honors and Awards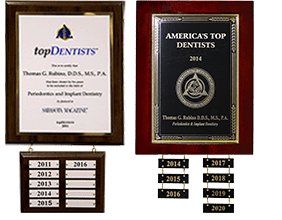 Dr. Rubino has been consistently recognized in the community and within his profession for the quality of his care. Based on a survey and selection by his peers, he has been featured as a "Top Dentist in the field of Periodontics and Implant Dentistry" in Sarasota Magazine every year since 2011. He has also been rated and listed every year since 2014 in the Consumer Research Council of America's annual Guide to America's Top Dentists.
Professional Associations
Dr. Rubino is an active member of the following professional organizations:
American Academy of Periodontology
American Dental Association
Florida Dental Association
Manatee Dental Society
Community Activities
Outside the office, Dr. Rubino has regularly donated his time and energies to local community activities. In addition to participating in numerous local charity events, he has coached the nationally recognized football and baseball teams at Manatee High School. He has also worked with the South Florida Museum and the Entre Nous Club Community Organization.
On a personal note
Dr. Rubino loves spending time with his wife and three adult children. He is also an avid outdoorsman who loves running, biking and visiting Florida's first-rate beaches.
Ryan Rubino D.M.D, M.S, P.A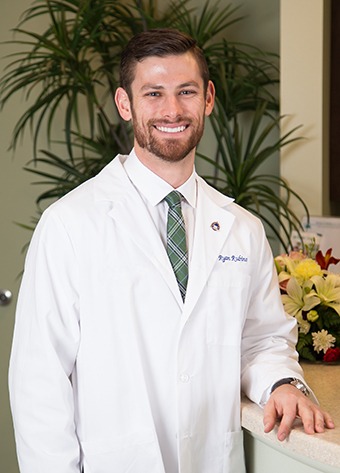 Dr. Ryan Rubino is a trained specialist in Periodontics and Implant Dentistry. He is the older of Dr. Tom Rubino's two sons. Dr. Ryan Rubino obtained his dental degree and specialty certificate from the University of Kentucky College of Dentistry. He is trained in minimally invasive soft tissue grafting, treatment of periodontal disease, minimally invasive LANAP dental laser therapy, full spectrum of dental implant treatments, all-on-4, teeth in a day, extractions, bone grafting and pre-prosthetic surgery.
"Dentistry has been a part of my life since the day I was born," he says. "Seeing my father enjoy his profession so much and sharing that desire to connect with people and make a difference in their lives, I became inspired to follow the same path and give it everything I have.
Dr. Ryan Rubino distinguished himself greatly during his years in training. He is a published author and has shown excellent clinical skills by being awarded numerous awards, including a scholarship from BioHorizons to attend the world renown course on Minimally Invasive Soft Tissue procedures taught by Dr. Pat Allen. He has also presented research at numerous conferences, including the International Academy of Dental Research (IADR), a world renown dental research symposium. His Masters of Science research thesis titled: "Postoperative bleeding associated with antiplatelet and anticoagulant drugs : A Retrospective Study" will be published in the peer reviewed journal "Oral Surgery, Oral Medicine, Oral Pathology, and Oral Radiology."
Dr. Rubino is passionate about helping people recreate their new smile. He has been involved in the office's Smile Giveaway campaign where he helped a veteran get a brand-new set of permanent teeth fixed to dental implants. This unique technique helps patient's transform their smile within hours. Dr. Rubino also loves where technology is heading in our profession. The advances in digital CT scanning and intra-oral scanners have improved tremendously over the past few years. "Technology has helped clinicians and patients expect a more predictable and faster solution to their dental needs."
Dr. Ryan Rubino is a member of the American Academy of Periodontology, American Academy of Facial Esthetics, Florida Dental Association and the Manatee County Dental Society.
In his free time, Dr. Ryan Rubino enjoys spending time with his wife, Chellsie, and their two dogs. He likes to play golf, go to the beach and spend time with his family.
Tyler Rubino D.M.D, M.S, P.A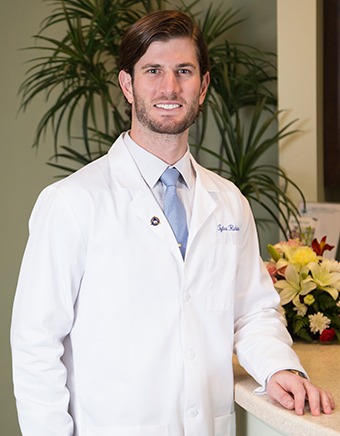 Dr. Tyler Rubino received his dental training at the University of Kentucky, where he received his Doctor of Dental Medicine degree. Following graduation, Dr. Tyler Rubino remained at the University of Kentucky for three additional years to complete his specialty training in Periodontics and Implant Dentistry. There, he also received his Masters of Science, during which his research focused on association of genetics to treatment outcome in aggressive periodontal disease.
"I'm a fourth-generation dentist in the family," he says. "I grew up around dentistry. It was around every corner, from my great grandfather and great uncle down to my dad and brother. One can imagine how dentistry was a big component of the conversations at family reunions."
Dr. Tyler Rubino mirrors his father's and brother's passion for providing patient-focused care. He chose periodontics after seeing the impact oral health has on people, systemically and with self-esteem. He enjoys the ability to help patients keep and rebuild their natural smiles, while also drastically improving their confidence and quality of life.
Dr. Tyler Rubino is a member of the American Academy of Periodontology, American Academy of Facial Esthetics and the Manatee County Dental Society.
Outside of the office, Dr. Tyler Rubino enjoys spending time outdoors, with family, a great workout, golfing, and woodworking.
Call to request an appointment: Sarasota/Lakewood Ranch 941-404-2218 • Bradenton 941-757-8676 • Sun City Center 813-630-4157, or click here to request an appointment online.