Implant Supported Dentures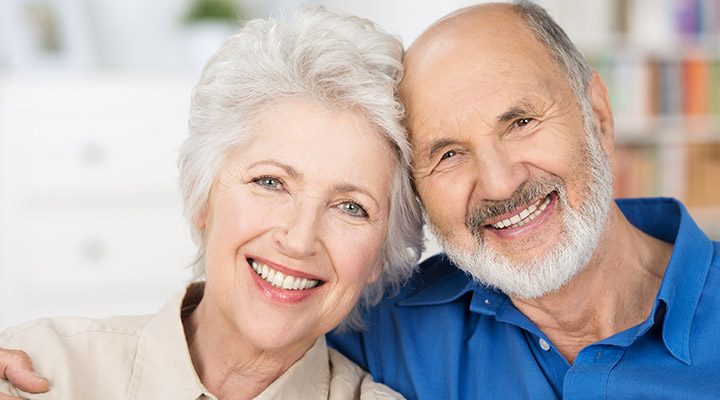 Stable and Lifelike Full-Arch Supported Replacement Teeth
Dentures have long been the conventional solution for replacing a full arch of missing teeth, and until recently were the only option available. However, dentures have many disadvantages that make them a choice of last resort.
Dentures provide only 10% – 20% of the chewing power of natural teeth and make it impossible to eat all the foods you need for proper nutrition without using a blender. Dentures continually slip or make clicking sounds when you are talking or eating, and chewing can be painful due to the denture rubbing against your gums and creating sores.
Furthermore, wearing dentures accelerates bone loss in your jaw and can cause the lower half of your face to eventually look "collapsed." The accelerated bone loss also makes your dentures loose-fitting, which requires that they be continually modified or replaced.
Implant-supported dentures restore stability and chewing power
Modern technology now makes it possible to stably support dentures with dental implants. Dentures resting on implants are held securely in position and their chewing power is significantly increased. Depending on your needs, the dentures can be fixed onto the implants or removable. An implant-supported, full-arch dental bridge (made out of a strong, high-quality porcelain) or series of bridges can also be placed as an alternative to implant-supported acrylic dentures.
Expert Dental Implant Specialist
As periodontists, our doctors have been recognized as specialists in dental implant surgery. They have been placing implants since 1990 and are experts at providing dental implants to support full-arch bridges and dentures. You doctor will work in close coordination with excellent local restorative dentists and prosthodontists who will craft your top-quality replacement teeth.
$79 New Patient Special Offer:
Exam, X-rays & Consultation
If you are wearing dentures or need all your teeth replaced, take advantage of our New Patient Special Offer and see Dr. Ryan, Tyler, and Thomas Rubino for a comprehensive oral exam and consultation. They will be able to tell you if you are a candidate for implant-supported, full-arch replacement teeth. You will learn about your treatment options and get all your questions answered. Our offer includes: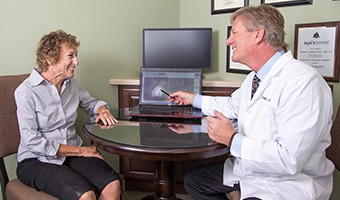 Panoramic Digital X-rays (as needed)
CT scan (as needed)
Periodontal probing and charting
Comprehensive oral exam
Oral cancer screening
Consultation with the doctor
Discuss your treatment options (during free 2nd appointment)
Get all your questions answered
Usual value: $529
Important Notice:
The patient and any other person responsible for payment has a right to refuse to pay, cancel payment, or be reimbursed for any other service, examination, or treatment that is performed as a result of and within 72 hours of responding to the advertisement for the free, discounted fee, or reduced fee service, examination, or treatment.
Call to request an appointment: Sarasota/Lakewood Ranch 941-404-2218 • Bradenton 941-757-8676 • Sun City Center 813-630-4157, or click here to request an appointment online.
Our Full-Arch Replacement Teeth Options
After a full clinical exam and evaluation, it will be determined which full-arch replacement teeth option is most suitable to your needs. In the event that you can take advantage of several available options, an explanation and the details and benefits will be given for each option and your questions will all be answered. In this way, you can make a well-informed decision.
Permanently fixed implant supported teeth
Rubino Periodontics and Implant Dentistry offers several options for full-arch replacement teeth that are permanently fixed in your mouth just like real teeth. These are what we refer to as implant supported dentures.
A customized number of implants can be placed across your dental arch that will support either a full-arch porcelain dental bridge or a series of bridges. Your dental bridges will be made out of high-quality porcelain or zirconia (an ultra-strong, natural-looking ceramic).
You can also be provided with a set of implant-supported teeth made out of high-quality, medical-grade acrylic. This type of full-arch replacement is often known as an "implant-supported denture."
Whichever option you chose, your teeth will look, feel and function very much like natural teeth, and they will provide nearly the same chewing power. There will be no false palate that covers the roof of your mouth and obstructs your sense of taste and sensitivity to heat and cold.
New Teeth in One Day with the All-on-4® procedure
In certain cases, your new set of fixed-in teeth can be supported using only four implants per arch, thanks to a revolutionary new treatment called the "All-on-4" procedure.
The All-on-4 procedure takes advantage of areas in the jaw where bone is dense and voluminous in almost all patients, even in those patients who have experienced a great deal of bone loss. Specially designed, angled implants are used to get maximum support from these areas of bone—in most cases entirely eliminating the need for bone grafting.
Using this special technique, most patients can receive any necessary extractions, have all their implants placed and walk out with functional replacement teeth on the same day!
Learn more about All-on-4 New Teeth in One Day.
Implant-supported removable denture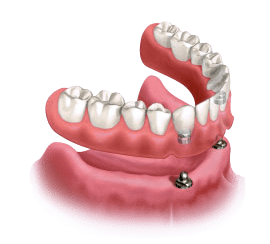 An implant-supported, removable denture is a more economical alternative to a fixed, implant-supported set of replacement teeth. A series of implants will securely retain your denture in position using special snap-on attachments. The denture will be firmly held in place while snapped in, but you will still need to remove it for cleaning.
Your denture will not slip, you will need no messy adhesives to hold it in place, and your chewing power will be significantly retained and enhanced. You will also be relieved of the discomfort and sores that result from a traditional denture rubbing against your dental arch. This retention system can also be used to stabilize a partial denture.
Implant-supported snap-on dentures are a major improvement over traditional dentures and are a good option for many patients, although permanently fixed-in new teeth provide the most lifelike results, including the greatest gains in chewing power.
Call to request an appointment: Sarasota/Lakewood Ranch 941-404-2218 • Bradenton 941-757-8676 • Sun City Center 813-630-4157, or click here to request an appointment online.