First Visit & New Patient Exam
Knowledgeable and Friendly Care
We are dedicated to providing you the highest quality service in a caring and friendly environment. We ensure this occurs from the moment you first contact our office.

When you come for your new patient exam, you will be greeted by our warm and attentive staff who will make sure your appointment is pleasant and efficient.
Your New Patient Exam
One of our friendly staff will help you complete your initial paperwork and will answer any of your questions. You will then be taken to a treatment room, where one of our clinical staff will interview you about your health history, what you want to address and any concerns you may have.
Digital X-rays
We start the diagnostics by taking digital X-rays. Our digital X-ray machines use only a fraction of the radiation emitted by traditional X-ray equipment. The images are much clearer than film X- rays and are available in seconds.
We will take X-rays of each section of your bite. Depending on the circumstances, we will also take a panoramic X-ray of your whole mouth.
Cone beam 3D CT scanner
When needed, we will use our cone beam 3D CT scanner to obtain a 3D 360° picture of your skull, teeth, and jawbone. These 3D images can be viewed from any angle and magnified for detailed inspection. Dr. Rubino uses these 3D views to detect certain infections, to plan out any bone grafting needed to rebuild support for your teeth, and to determine precisely where to place dental implants.
Comprehensive exam and education
Dr. Rubino will conduct a comprehensive exam and will really listen to your goals and concerns. Patients often comment on how friendly and caring Dr. Rubino is and how he puts them at ease.
He will first conduct an oral cancer screening, after which he will check for missing teeth, teeth that are loose, and any teeth that are broken-down. He will then gently probe the depth of the pockets under your gumline to assess the level of gum disease. Dr. Rubino will also inspect the amount of gum tissue surrounding your teeth and will note any gum recession or other problems.
When finished with the exam, Dr. Rubino will make a second appointment with you to go over his findings in further detail and discuss your treatment options.
Treatment planning
Dr. Rubino closely reviews all the information obtained and carefully develops a treatment plan to effectively address your particular situation. As part of his planning, he will consult with the dentist or prosthodontist who will be making your new replacement teeth, including your treatment options if dental implants are part of the plan.
Treatment discussion appointment
In your treatment discussion, Dr. Rubino will explain his findings and present your treatment options in detail and in a way that is easy to understand. He will make sure to answer any of your questions so you are well- informed and comfortable making decisions about your treatment.
$79 New Patient Special Offer:
Exam, X-rays & Consultation
New patients can take advantage of our special offer for a comprehensive exam. Your exam will include: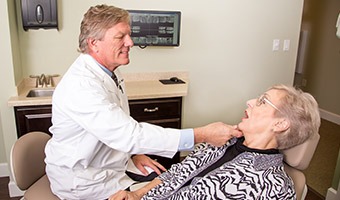 Panoramic Digital X-rays (as needed)
CT scan (as needed)
Periodontal probing and charting
Comprehensive oral exam
Oral cancer screening
Consultation with the doctor
Discuss your treatment options (during free 2nd appointment)
Get all your questions answered
Usual value: $529
Important Notice:
The patient and any other person responsible for payment has a right to refuse to pay, cancel payment, or be reimbursed for any other service, examination, or treatment that is performed as a result of and within 72 hours of responding to the advertisement for the free, discounted fee, or reduced fee service, examination, or treatment.
Call to request an appointment: Sarasota/Lakewood Ranch 941-404-2218 • Bradenton 941-757-8676 • Sun City Center 813-630-4157, or click here to request an appointment online.